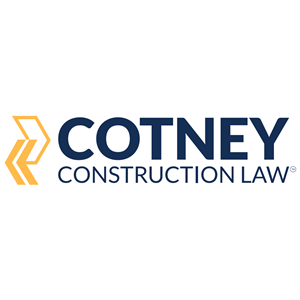 Cotney Construction Law
Cotney Construction Law is dedicated to representing the construction industry.
Cotney Construction Law is a national law firm that provides representation for general, roofing, HVAC and specialty contractors. Experienced in the representation of businesses and professionals in construction disputes and transactions throughout the nation, Cotney is a well-known advisor and legal counsel in the construction industry. The firm's practice areas include construction law, litigation, arbitration, contract review & drafting, immigration, employment, OSHA defense, licensing defense, bid protests, lien law, bond law and alternative dispute resolution. The firm has Florida offices in Tampa, Orlando, Tallahassee, Jacksonville, and Ft. Lauderdale, as well as locations in Nashville, Houston, Grand Rapids, and Mobile, Alabama.
Years in Business:
Price Range: $
Best Suited For: Residential, Commercial