By Ashley Rannikar, Art Unlimited.
Welcome to the digital age, where information can be transported across the planet and back in seconds, card catalogs are cute things of the past, and microwaves annoy us because making a bowl of Ramen can't be finished fast enough. We have a need—a need for speed—and it transcends nearly every area of our lives, including on the web.
What is AMP?
When it comes to your website, AMP is an improvement to the present and a key to the future! AMP stands for Accelerated Mobile Pages. It is an open-source library which enables you to make your website simple, stunning, and freakishly fast on mobile devices. It's supported on most websites and browsers and has been proven to increase web engagement significantly.
How Does AMP Work, and Why is it So Fast?
AMP takes the basic parts of a website (HTML, JavaScript, and caching) and optimizes them for speed and mobile-friendliness.
In regards to HTML, AMP takes what is already on the website and places some restrictions on it so the performance of the page is optimal. Because of those restrictions, custom coding or shortcodes are sometimes not displayed. Usually, it attaches itself to regular HTML tags. Though when necessary, it replaces HTML tags with custom AMP programming to create simpler patterns in the coding.
JavaScript is the coding that makes a webpage interactive, which is necessary if you want a great website. However, it can slow a website down significantly if the system gets hung up downloading the files. Adding AMP to your website ensures the elements on a page load asynchronously. This means parts of a page can load independently of one another, making the essential content render ultra fast.
Google AMP Caching is the key to speed. When a webpage has implemented AMP, Google caches the page in its system. Then, when anyone goes to view the page, Google can immediately serve them the simple, cached version without having to find and render the whole page from scratch.
AMP is like an instant dinner made by a fairy godmother. You ask for a website to load and bippity-boppity-boo, it's right in front of you! No more slaving in the kitchen, waiting seconds upon seconds for your microwave to ding the arrival of your bulky, mobile-unfriendly website.
Speed is our need, but it is not the only benefit of having AMP installed on your website. Over the last several months, we have been implementing and tracking the effects of AMP across multiple websites. Take a look at the results we have found.
AMP Results
In measuring the effectiveness of AMP in our websites, we first looked to Domain Authority (DA). Domain Authority is a number calculated by Moz which projects the probability of a website ranking well in the search engine results page (SERP). It operates on a consistent scale from 1 to 100. The higher the number, the greater the likelihood of it performing well in the SERPs. In our SEO work, we've found that Domain Authority generally moves up and down very slowly and rarely jumps multiple numbers. To our surprise, AMP threw a wrench in this pattern.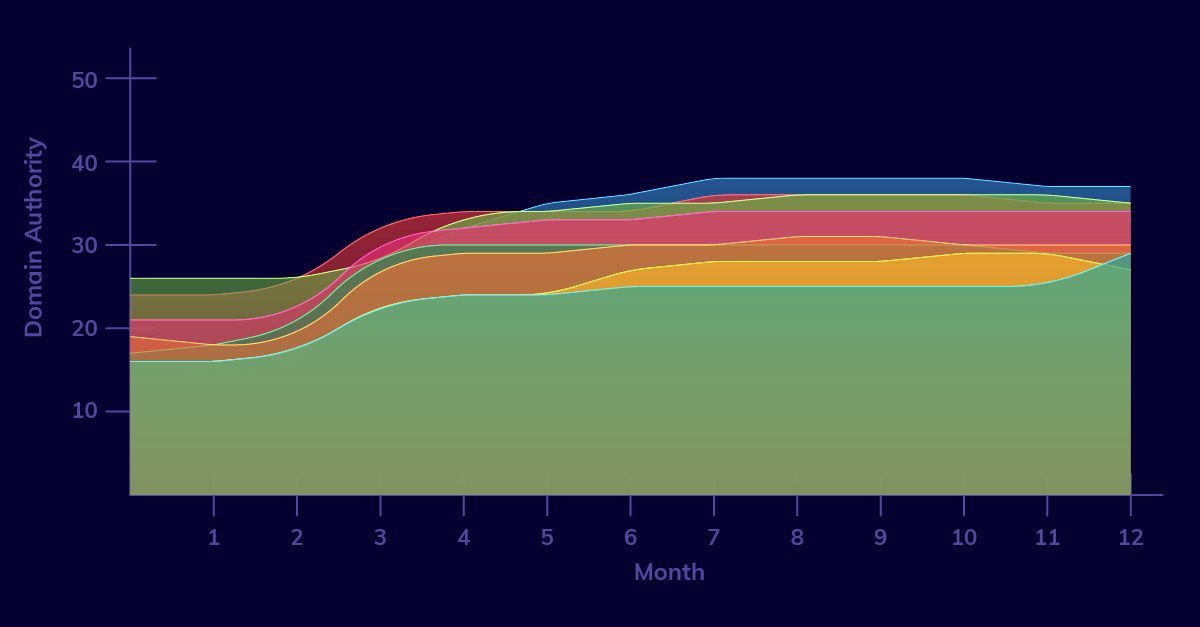 Take a look at the graph above. Companies from the following states leaped in Domain Authority almost overnight! It took only a couple of months to gain a higher domain authority rather than a couple of years.
Florida – 9 points
Florida – 12 points
Georgia – 22 points
Michigan – 10 points
Minnesota – 12 points
Minnesota – 10 points
New York – 8 points
Oklahoma – 11 points
South Carolina – 12 points
Next, we look at the importance of mobile-friendly websites. Check out these stats compiled by Main Street ROI:
Out of all online traffic, 52.64% came from a mobile device in 2017.
By the end of 2018, mobile traffic will account for 79% of all traffic.
Over half of Internet users say they wouldn't recommend a site that isn't mobile-friendly.
If a site isn't mobile-friendly, 8 in 10 customers won't engage with it.
Conversion rates on mobile devices are up 64% compared to conversions on a desktop.
If you want your company to have a competitive online presence, there is no way around mobile usability. Even if your site has been built on a mobile-first platform, installing AMP still seems to significantly increase your chances of ranking better in search results. Google loves AMP because people love faster load times.
Respect Google. Love people. Have AMP installed on your website today. Contact Art Unlimited with any questions you have about getting AMP into your website!
Source: Art Unlimited