The list includes CEOs, VPs, managers and engineers who are all making a difference.
Mycocycle, Inc., a leader in using mycoremediation to process toxins out of waste, announced that CEO Joanne Rodriguez has been named to the 2021 Environment+Energy Leader 100 Honoree List.
"It's exciting to be included among such an elite group of changemakers who are committed to helping the environment," stated Rodriguez. "Together, this group of honorees will have an impact on the future of how efficiently we use our resources through the development of innovative solutions that lead to a more sustainable environment for coming generations."
In its fifth year, the annual Environment+Energy Leader 100 recognizes those environment and energy "doers" who break trail in creating new solutions, programs, platforms, best practices, and products to help their companies – or other companies – achieve greater success in commercial and industrial environment and energy management.
"The Honorees on the annual list show groundbreaking work and dedication to the field of sustainability and energy management," says Paul Nastu, President of Environment+Energy Leader. "We're thrilled to recognize this year's Honorees and congratulate all who made the list."
Nominations for the E+E 100 are made by Environment+Energy Leader readers and others that work in the industry, are vetted and then Environment+Energy Leader team and a select group of advisors from the industry make the final Honoree selections.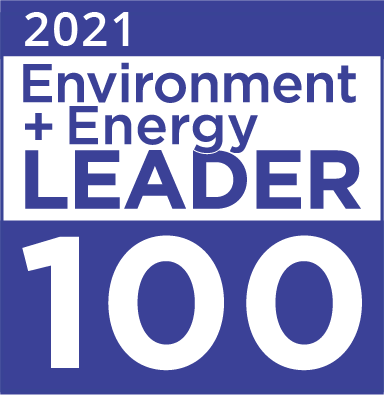 About Mycocycle
Mycocycle, Inc. was founded in October 2018. It is a woman-owned, early stage cleantech company using mycoremediation to process toxins out of waste. Mycocycle was the winner of the 2021 1871 Momentum Awards as an Industry Disrupter, recognized as a Finalist in FastCompany's "2021 World Changing Ideas" Awards issue, recognized as a Forbes "Next1000" Entrepreneur, selected as a Top 100 Global Deeptech Pioneer by Hello Tomorrow, and a 2020 Innovation selection in the EPA's Innovation and America Recycle's Fair. Mycocycle has been named a 2021 Illinois Qualified New Business Venture under the Angel Investment Tax Credit Program. This program provides Illinois-based investors a state tax credit of 25 percent of their investment up to $2 million. For more information visit www.mycocycle.com.
About Environment+Energy Leader
For fifteen years, Environment+Energy Leader (www.environmentenergyleader.com) has provided news, best practices and research that has influenced environment, energy and sustainability conversations–and powered decision-making. We have a wide range of professional resources, including our website, newsletters, awards programs, webinars, reports, white papers and conferences to help you tackle environment and energy management challenges in order to reduce costs, increase efficiency and minimize resource waste. Environment+Energy Leader is published by Business Sector Media LLC.