BY RT3 MEMBER PHIL PRATT
Did you know that hail drives more property damage in the U.S. than just about anything else? In fact, wind and hail account for between 40-50 percent of homeowner's insurance claims each year. That's the bad news. Here's the better news: artificial intelligence (AI) is enabling fast and accurate hail damage detection, speeding up claims and repairs.
The days of manual inspections that required workers to climb on ladders and walk around on damaged roofs are fortunately fading into the rearview. Now, workers can use drones coupled with AI-powered systems in order to analyze imagery for rooftop hail damage. These inspections are not only faster, more accurate, and cost-effective, they are also much safer. Here are 5 advantages of using AI technology for roof inspections:
Faster and more efficient inspections: With AI-powered systems, workers can inspect rooftops more quickly and efficiently than they could using traditional methods. AI can analyze a large number of images in a short amount of time and identify hail damage with high accuracy. This not only saves time but also reduces the costs associated with inspections.
Consistency and accuracy: AI systems are designed to be consistent in their analysis. This allows the user to reduce the number of photographs to only the ones that have a high likelihood of hail strikes in the imagery. This speeds up the inspection process and makes the analyst's job easier and faster.
Remote inspections: With AI-powered systems, it is possible to perform inspections remotely. This means inspectors do not need to be on the roof to detect hail damage. Instead, drones or other aerial vehicles equipped with cameras can capture images of the roof, which can then be analyzed by an AI algorithm. This not only makes inspections safer but also reduces the need for physical access to the roof, and allows for third-party pilots to be utilized for the initial inspection.
Predictive analytics: With enough data, AI algorithms can use historical data to predict the likelihood of future hail damage. This can help property owners and insurance companies proactively address potential issues before they become significant problems. By detecting hail damage early, repairs can be made quickly and at a lower cost.
Cost-effective: AI-powered inspections are generally more cost effective than traditional inspections. With AI, the need for manual labor is significantly reduced, which can save money on labor costs. Additionally, AI-powered systems can detect hail damage that may not be visible to the naked eye, which can prevent more costly repairs down the road.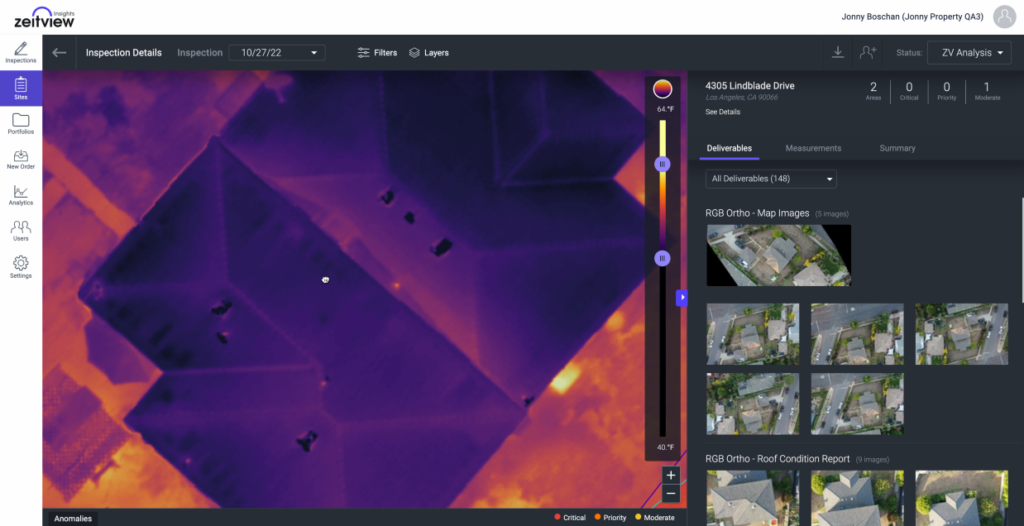 The benefits of using AI to analyze imagery to identify rooftop hail damage improves analyst workflows and creates a more efficient way to identify hail damage than traditional methods. As technology continues to evolve, it's likely that AI-powered inspections will become even more prevalent in the roofing industry. The applications are endless, but AI still has a long way to go before it completely replaces human analysts.These tools do wonders for creating efficiencies for roofing and insurance companies looking to understand the full scope of hail damage on a rooftop. To learn more about Zeitviews AI solutions for roofing inspections, visit us at Zeitview.com/roofing