This installation has opened up new possibilities for the next steps in solar roofing installations.
Kelly Roofing has completed the first-ever international Tesla Solar Roof installation, marking a significant milestone in green energy innovation. The Florida-based company managed negotiations, logistics and operations to extend its services into the international field, starting on the island of Nevis in the West Indies. This installation has opened up worldwide possibilities for the next steps in solar roofing installations for Kelly Roofing.
"This job is the pay off of years of work and innovation, it's incredible to watch it come to life," said Kelly Roofing President Ken Kelly. "Our team has been working with Tesla on building the solar roof deployment process from the ground up since they began developing it in 2019. Roofing innovation is what we do. It's what we've been known for for the last fifty years at Kelly Roofing. This client, and this job have brought us to a new level and let us begin to really see the fruit of that labor."
Installing a Tesla Solar Roof internationally required an intricate, multi-faceted and carefully honed system to complete. Kelly Roofing worked with the customer to understand their goals and negotiated a general price for the raw job. They then navigated duty and tariffs, shipping fees, customs fees, holding fees and transportation fees. The company's prior experience in these logistics laid the groundwork for the job in Nevis and made the job seamless for the customer.
"We had the advantage of having solid shipping partners in place and a tested process, it was a matter of fitting the pieces together strategically for what this client needed," Ken Said.
The Kelly Roofing team's extensive experience in navigating Florida's stringent roofing codes allowed them to navigate the legal hurdles of Nevis's roofing regulations. The team also partnered with a local contracting team to ease relations with the government and the local community, providing on-the-job training and bringing the job to life.
The Tesla system is unique in its durability and innovation as well. It is connected to an app that is designed to be intuitive for the homeowner, helping control power consumption and usage. The roofs are also designed to last over time, making them hurricane-force-wind resistant and impact resistant to hail. Each tile is independent, allowing for expansion and contraction in extreme temperatures.
"The Tesla system gives peace of mind to our clients. We saw roofs come out of Hurricane Ian basically untouched and the Powerwall system kept up. There were entire blocks where neighbors were charging their phones at the only house with a Tesla Solar Roof because no one else had power," Ken added.
For the homeowner, the Tesla Solar Roof came with a host of benefits, including ease of use and unmatched durability that provide an excellent return on their investment. In Nevis, the homeowner was able to take their home off-grid without interfering with the quality of their day-to-day life.
Kelly Roofing is now vetting and accepting new international Tesla Solar Roof jobs and is thankful and honored to have been a part of building this customer's home.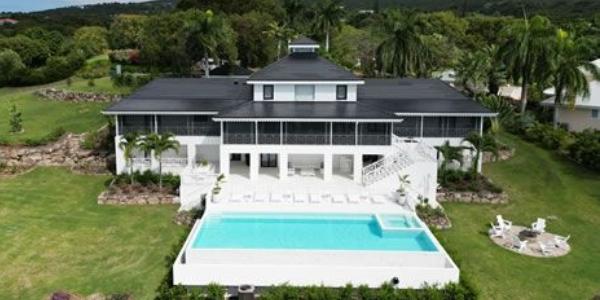 Contact us today at 239.228.3276 or by email at: mail@kellyroofing.com for more information.
About Kelly Roofing
Kelly Roofing is an award-winning, Florida-based, international roofer that has been on the cutting edge of roofing innovation since 1972. They are a Top 100 Roofing Contractor and have been recognized as America's Roofing Contractor of the Year. Kelly Roofing holds dozens of awards including the Roofing Think Tank Innovator of the Year and Fastest Growing Roofing Company in America Award. The company lives by the idea that the values of care, communication and consistency are the pathways to innovation and outstanding workmanship. Kelly Roofing is a certified Tesla Solar Roof installer and has leveraged this partnership to launch into the international solar roofing market.