RE:TV highlights inspiring innovations and ideas that are emerging in response to the climate and biodiversity crisis.
Mycocycle, Inc., a leader in using mycoremediation to process toxins out of waste was featured in an episode on RE:TV, an initiative founded by His Majesty King Charles III in 2020 at the World Economic Forum (then HRH the Prince of Wales) to spotlight change makers around the world. The platform seeks innovations that are inspired by nature to address the challenges of the climate crisis.
Mycocycle's process of using fungi to transform waste materials into a reusable resource captured the attention of RE:TV because of its ability to dramatically reduce the negative impact that the construction industry has on the environment. The resulting biomaterial that is produced is both fire- and water-resistant and can be used in the manufacture of many new products, including building materials, resulting in a true closed-loop ecosystem.
"The waste generated in the construction industry takes up space in landfills and can leach toxins into the air, water and soil," Mycocyle CEO and Founder Joanne Rodriguez explained in the episode. "For every ton of waste that we treat, we are able to reduce CO2 emissions by almost three metric tons." The Mycocycle spotlight can be watched on RE:TV's website.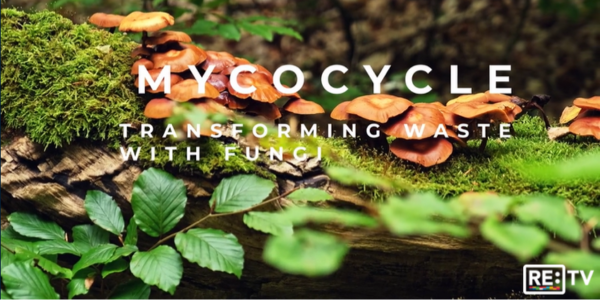 About Mycocycle
Mycocycle, Inc. is a nature-inspired and woman-owned biotechnology startup that leverages fungi to transform industrial waste into reusable materials. Founded in 2018, the company is on a mission to drive circularity in the construction supply chain and divert waste from landfills with its innovative solution. Mycocycle blends lab-cultivated fungi with debris at the point of waste generation to detoxify hard-to-recycle building materials and turn them into new raw materials. Its customers include companies across the waste management, recycling, and manufacturing industries, as well as companies focused on reducing Scope 3 emissions.
In 2023, Mycocycle was issued a Declare label for its "MycoFILL© G" materials through the International Living Futures Institute, which recognized its products as Red List Chemical Free. Mycocycle is a FastCompany World Changing Ideas finalist and its CEO has been honored as a Environment + Energy Leader Top 100 Leader, Crain's Chicago Top 50 Sustainability Executive and named to the inaugural Forbes Next 1000 list. To learn more visit www.mycocycle.com.