By Shashi Bellamkonda, Surefire Local.
It is a good day when you can meet a group of technology thought leaders and exchange notes.  The occasion was the meetup of Roofing Technology Think Tank (RT3), a consortium of thought leaders exploring emerging technology solutions for the roofing industry at the U.S. Capitol on March 6, 2018.
Showing the power of networking, Heidi Ellsworth of RoofersCoffeeShop.com  and co-founder of RT3, reached out to Sasha Bernhard, Legislative Aide to Senator Cantwell and created a program of talks from inspiring leaders. Thank you both very much. Of course, it wouldn't have happened without the persistence of the amazing Laura Bartolozzi who made sure everyone got to this meetup in one piece and David Huval, both from National Roofing Partners (BTW, thank you to NRP for sponsoring the startup costs of RT3 and for the lunch and coffee, and RoofersCoffeeShop.com for sponsoring the reception.)
High level takeaways:
Sasha Bernhard – Legislative Aide to Senator Maria Cantwell, D-Wash.
At a previous visit to the House and Senate a few years ago, I was amazed at the smartness, intelligence and enthusiasm of the staff of the House of Representatives and Senators. I am confident that this is a very good reason why America is such a great country. The people we elect for the most part surround themselves with excellent people. I was very impressed by Sasha's talk where she laid out all the ways that a group like RT3 can influence the conversation both to the public, contractors, media and the legislature. Everyone can make their voice heard if they take the initiative to reach out.
Congressman John Delaney – D-MD, 6th District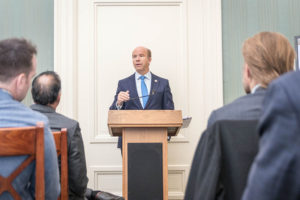 Rep. Delaney launched the AI cause and acknowledged that there will always be disruption  "In my view, there is tremendous potential for AI to be a positive transformational force, but also understandable concern about the impact that disruption could have on existing jobs."
This is a good position, almost every speaker acknowledged that the nature of jobs will change and it is important to think about how to "upskill" the workforce to make them suitable for the new jobs that will be created and some jobs will disappear.
Reid Ribble – Executive Director, National Roofing Contractors Association
Reid is the new executive director of the National Roofing Contractors Association and this week about 400 roofing professionals flew into Washington, D.C. to make their voices heard. Reid mentioned a few areas where roofing professionals can make changes. The perception of the roofing industry in the Congress and Senate is driven by the opinions in the media, homeowner complaints about a few bad players. In order to change the perception all around, all professionals have to join together. Showing up in strength definitely helps. Technology advancement in the roofing industry should be highlighted and professionals should think of more innovation. Reid mentioned a thought of how roofing contractors control the roofs where so much of rainwater touches. IF there was a way to collect and use this water this would help with such a rare resource in the world "water" ( Water according to Reid is costlier than oil)
Dr. Nicol Turner-Lee – Fellow, Center for Technology Innovation at the Brookings Institution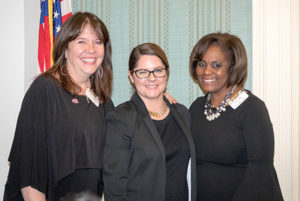 Dr. Turner-Lee started her talk with a stark truth that half the population on this earth is still not online. While there is a rapid change in digital platforms, predictive analytics, automation, and machine learning, small and medium businesses are finding it hard to keep up. Over 66% of the new jobs in the US are created by small and medium enterprises. The rise of automation and AI will dismantle jobs and render some positions obsolete. 
Specific to the roofing Industry:
Major goals are productivity and the application of innovation
Construction robotics

"Masonry robots" – speed up brick pattern courses

Wearable robotics, including exoskeletons for mobility to robotic arms for strength

Drones for equipment delivery and to check on inventory
Big data analytics

Jobsite efficiencies & optimized equipment

Weatherization

3-D Printing

Showing up in cranes for improved layering of concrete

Mapping & design

Remote management and design

Pre-fabrication through digitization
Overall these speakers inspired the group to take back thoughts and work into their businesses and the community.