This was the first year that roofing was included in the SkillsUSA national championship and members from RT3 were there to showcase technology in the roofing industry including drones, 3D modeling and virtual reality.
At the Roofing Technology Think Tank (RT3) table, members were showcasing drone technology and 3D building modeling. Attendees could don an Oculus headset and experience what it's like to be on the roof of the building in the 3D model. The team from Imagine Technologies and Division 7 Roofing was there to answer questions and fly the drone during a demo period.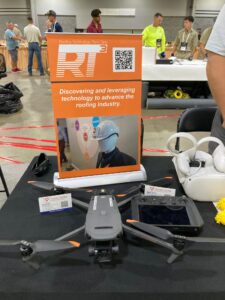 The National Roofing Contractors Association was instrumental in working with SkillsUSA to include roofing as part of the competition this year. Heidi Ellsworth from RoofersCoffeeShop and RIck Damato of Roofing Contractor magazine worked together to secure donated materials and support for the roofing competition.
Four teams from across the country competed in the commercial roofing competition on Wednesday, June 21 under the guidance of skilled technicians from IB Roof Systems. The teams took a written test on the first day and then headed to the competition area to practice what they had learned in preparation for the competition the following day. First place was taken home by Kansas!
The first day of the Techspo saw crowds of students, teachers and family members learning from vendors about products and services they offer to the industry. In the roofing pavilion, attendees were able to experience both low-slope and steep-slope roofing installation methods.
In the low-slope demo area, they learned how to weld a seam on TPO with a handheld welder under the tutelage of experts from Johns Manville. After welding, the JM team tested the strength of the weld. On day two, students can compete in the seam welding for a chance to win a backpack and other swag from JM. On the steep-slope side, individuals were shown how to run a course of shingles, including installing starter strip thanks to the help of TAMKO. A special thank you to SRS Distribution for getting all the donated materials into the convention center.
National Women in Roofing had a table to share information on the organization and encourage the young women in attendance to consider the roofing industry as a viable career option.
We were really excited to be able to share the technology of the industry with the next generation of workers and are looking forward to next year!