Heidi J. Ellsworth was an honoree in the Changemaker category.
RoofersCoffeeShop®, the award-winning place where the industry meets for technology, information and everyday business, announced that Heidi J. Ellsworth was named in Folio: and AdMonsters' 2021 class of Top Women in Media as a Changemaker. 
Each year, an elite group of women who have made a lasting impact on their brands, organizations and markets are recognized for spotlighting the diversity and progress within the media industry. The Top Women in Media class recognizes an impressive who's who of noteworthy women from the dynamic media community.
"This is an incredible honor to be recognized among these powerful women in media," stated Ellsworth. "The team at RoofersCoffeeShop has been incredibly supportive of bringing our industry-changing ideas to life so that we can better serve our roofing contractors and industry partners to elevate the professionalism of the roofing industry. We are committed to always being a changemaker and delivering the best information, tools and experiences to our roofing community."
"Women are a mega-force behind today's growth and innovation in media," said Bill Amstutz, group publisher of Folio: and AdMonsters in a statement. "It is our honor to highlight the tremendous impact of the many brilliant women leading our industry forward and inspiring what comes next."
See the full list of honorees here.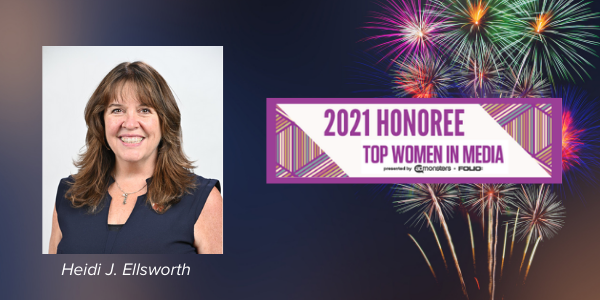 About RoofersCoffeeShop
As an award-winning website and online community, RoofersCoffeeShop is committed to being a roofing professional advocate by supplying consistent information, education and communication avenues for all roofing professionals, and especially contractors, while promoting the positive growth, education and success of the roofing industry overall. Visitors to the site continue to find excellent opportunities for sharing information while participating in important ongoing conversations concerning new technologies, safety and the overall roofing trade. From the rooftop to the board room, RoofersCoffeeShop.com is "Where the Industry Meets!" For more information, visit www.rooferscoffeeshop.com.