Activities include a virtual reality experience and a future workforce-focused contractor educational panel.
Roofing Technology Think Tank (RT3), a group of progressive roofing professionals focused on technology solutions for the roofing industry, announced activities scheduled for the International Roofing Expo (IRE) 2022.
Members will meet Monday, January 31 at the Pan American Life Center in New Orleans. Together they will hear updates on Tesla Solar roofs, recent technology company acquisitions and then will participate in a hands-on virtual reality experience to understand how the tool can benefit the roofing industry.
RT3 will also host an educational panel on Tuesday, February 1 at 7:45 a.m. The session is titled Casting the Net for Your Future Workforce. In this panel, RT3 contractor members share how they are working with their schools, youth programs and communities to build a pipeline for the future roofing workforce. From multi-organizational apprenticeship programs to working with youth from schools who don't want to pursue college to getting involved in the community and developing in-house training opportunities, these contractors will share what they are doing, how they got started and tips for success.
The panel is moderated by Heidi J. Ellsworth and participants include RT3 contractor members John Peck of PB Roofing, Charles Antis, Antis Roofing & Waterproofing, Christee Holbrook of Graham Roofing, and Josey Parks, CEO of J Wales Enterprises.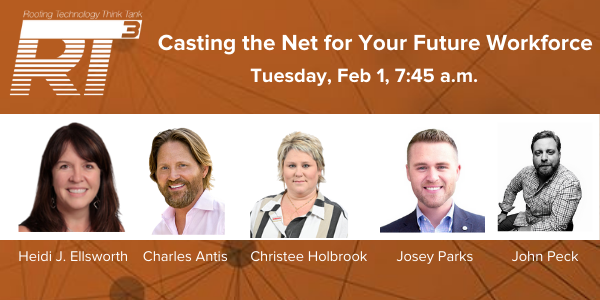 "Building our future workforce has been and will continue to be a challenge for our industry," stated Karen Edwards, RT3 Director. "Several of our members have implemented initiatives that are working to attract and retain workers and we wanted to share that with the rest of the industry. This is a chance for other contractors to learn how to get started and get ideas as to what might work in their service areas."
# # #
About Roofing Technology Think Tank (RT3)
Roofing Technology Think Tank (RT3) strives to find innovative technology solutions to be used within the roofing industry. RT3 provides insights from progressive thought leaders both inside and outside the roofing industry along with practical resources for implementing potential solutions successfully. The organization will encourage and enable contractors to embrace technology as they seek to grow their businesses. With a commitment to disseminate technology advancement information, RT3 will help build the professionalism and appeal of the roofing industry. Learn more at www.rt3thinktank.com.