The award recognizes a roofing contractor who contributes to the advancement of the roofing industry.
York, Pennsylvania, December 6, 2022 –- Roofing Technology Think Tank (RT3), a group of progressive roofing professionals focused on technology solutions for the roofing industry, awarded the 2022 Innovator of the Year award to Joe Hoffman, owner and president of Hoffman Weber Construction The award was announced during the 2022 Best of Success Conference in Scottsdale, Arizona.
"Joe is a true innovator who recognized the online shift in consumer buying habits and developed the technology to allow Hoffman Weber Construction to sell roofs to homeowners online," stated Anna Anderson, CEO of Art Unlimited, Award Task Team Leader and past RT3 Board President. "The technology that Joe created, known as Roofle, has changed the landscape for purchasing residential roof systems."
Hoffman Weber Construction has been a leader in using technology for decades. As an early adopter of EagleView, AccuLynx and Xactimate, Joe Hoffman has led Hoffman Weber in the adoption of technology that has propelled their business while inspiring them to create software that roofing contractors need for growth into the future.
With the development of Roofle, homeowners can enter their property address and within seconds receive price quotes for good, better and best roofing systems from their choice of manufacturer. Hoffman is making this technology accessible to other roofing contractors who want to increase transparency and bring their roofing businesses into the 21st century.
Congratulations to Joe Hoffman and Hoffman Weber Construction on being named the 2022 Innovator of the Year.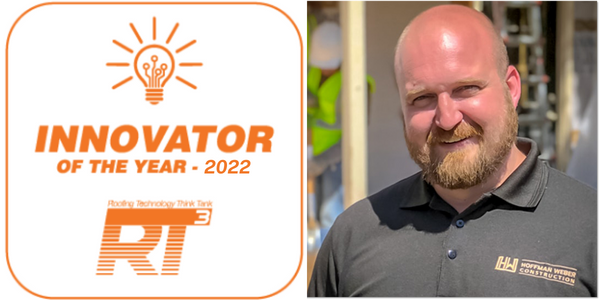 About Roofing Technology Think Tank (RT3)
Roofing Technology Think Tank (RT3) strives to find innovative technology solutions to be used within the roofing industry. RT3 provides insights from progressive thought leaders both inside and outside the roofing industry along with practical resources for implementing potential solutions successfully. The organization will encourage and enable contractors to embrace technology as they seek to grow their businesses. With a commitment to disseminate technology advancement information, RT3 will help build the professionalism and appeal of the roofing industry. Learn more at www.rt3thinktank.com.